The best way to play soccer in Spain is by attending an international soccer academy in Barcelona. We are one of the top academies in Europe and we offer young players different types of programs to help them develop their skills. Becoming a pro player is hard and needs a lot of intense training, creating well-rounded players is easier with the proper training methodology. Keep reading to learn about our programs and methodology.
10 months soccer program
The 10 months soccer program is the best program to help you become a pro player. It's a well-known fact that to become a proficient player you will need talent, hard work, and the best training available. That's why we have been developing our soccer program for more than a decade to give young players the chance to learn from the best soccer academy in Spain.
By attending our international soccer academy you will improve and be able to get your game to the next level through the most advanced training and high exposure in youth soccer tournaments. Our 10 months soccer program is the best way to play soccer in Spain while experiencing Barcelona. Feel free to contact us to learn more about our program for young players like you.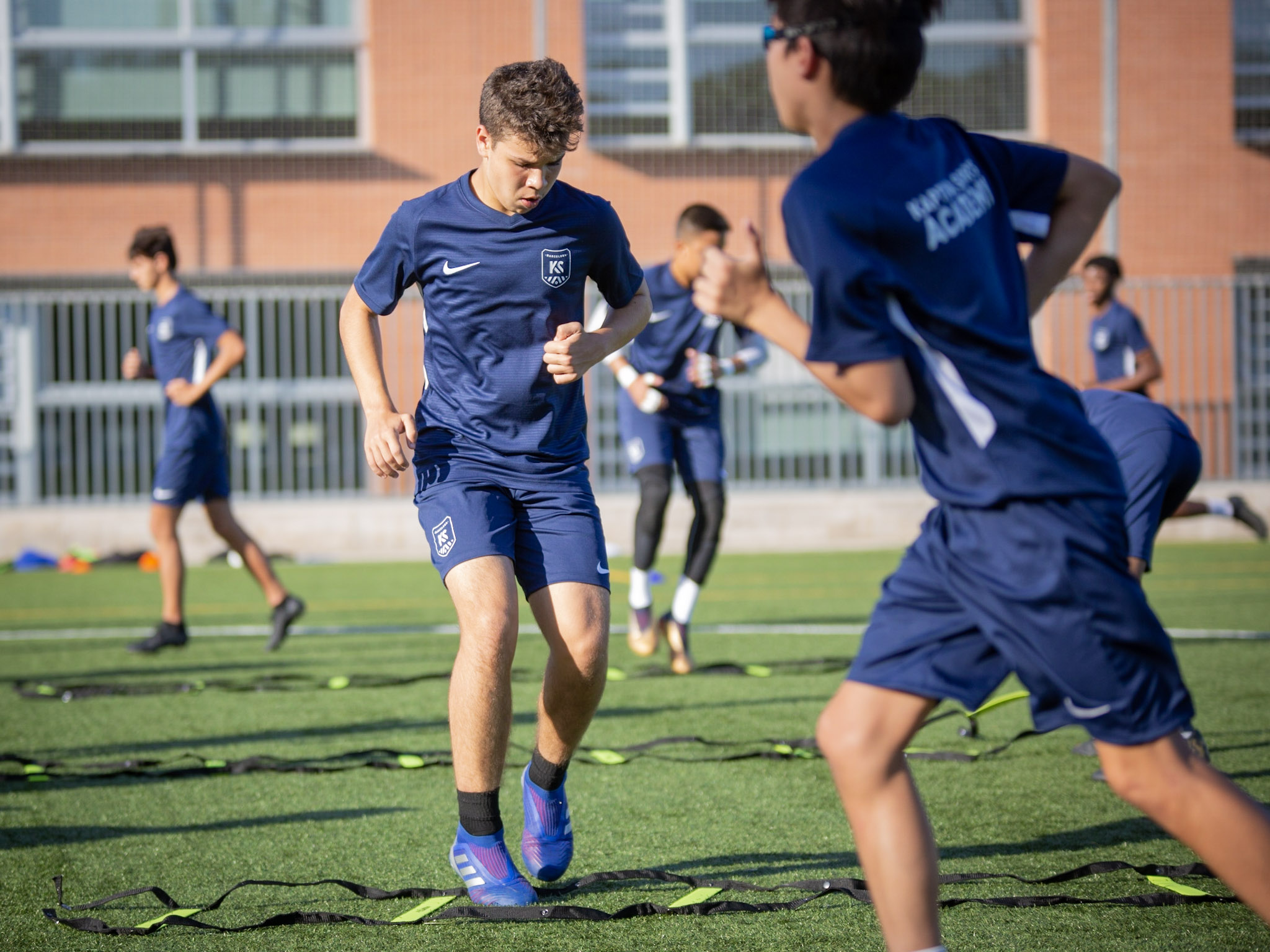 6 months soccer program
At Kaptiva Sports Academy, we are concerned about your growth, development, evolution, progress, and your journey to becoming a soccer star. That's why we give you the possibility to experience our academy for 6 months. We will make it easy for you to train and study while having a great time in Barcelona. Do not hesitate and let us know if you are interested in our soccer programs.
Our 6 months soccer program goes from January to June and is a great way to develop your game with the best competition against other players your age. You will be able to play at the best youth tournament in Europe. You can read our international soccer tournaments post to learn more about it.  This soccer program will help you grow while enjoying life in Barcelona, one of the soccer capitals in the world.
One week program
Our one-week soccer program will help you improve without even trying and maximize every training session to get a cohesive and strong evolution. It will be an amazing week experiencing the best training methodology available in Europe. It's a great way to get a little taste of the academy and you will get the chance to play soccer in Spain for a week.
Developing your awareness on the field will also give you new tools to understand the best way to proficiency showcase your talent. We will create the perfect environment to develop your game and to help become the best player you can be.
Summer camps soccer program
Our summer soccer camp in Barcelona will train you to be the best when it comes to being quick with the ball and to coordinate effectively in the game. soccer games are won by the team's efforts and not only by individual efforts. You will be trained in all essential aspects of the game like dribbling and shooting. International experience and the best activities in Barcelona will make your summer stay the best experience of a lifetime.
Play soccer in Spain
A great way to improve your soccer skills is to spend a full year at an international soccer academy developing all your skills. You will be able to train and develop all your soccer skills with the best coaching and a great environment to grow. You can also study while experiencing an amazing training year. You can contact us to learn more about our international soccer academy. We will help you grow you soccer skills and you will get the chance to compete at the highest level in Spain.