WELCOME TO THE
BARCELONA EXPERIENCE
The mediterranean and diverse soccer capital
Living Barcelona
Some players dream about playing in the perfect place, and some live it. Barcelona has for years used it perfect location and weather to not only allow players to train yearlong but be part of the center of the soccer world within Europe.

A soccer environment without limits leads to uniting players from all different nationalities with their common passion to live and breathe soccer.
With players from all over the world and its own rich soccer history, the Catalonian capital has become one of the world's major soccer hub cities.
During Kaptiva Sports Academy beginning in 2012, 162 players from 6 continents and 55 countries have donned the purple jersey.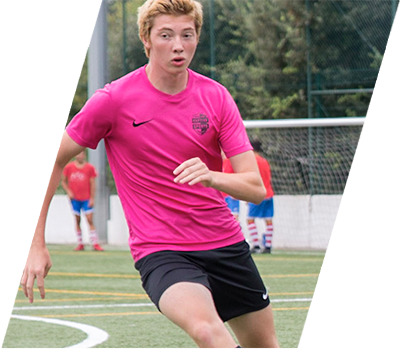 THE PLACE TO BE
Teams, brands, and organisations have used the city as their backdrop, giving local players a wide range of opportunities not found in many other places in the world. Exclusive events, the world's top youth tournaments, and its prestigious high-level competition has proven time after time to produce top world class footballers competing in the renowned La Liga and UEFA Champions League.
Barcelona and Espanyol are two of the most important teams in La Liga, but you also are less than an hour away from another well-known team, Girona. Barcelona has and will remain the place to be for aspiring footballers.
BARCELONA CULTURE
Barcelona has a lot to offer due to the mix of cultures and it's long history. It's consider one of the most important cities of the mediterranean sea and also one of the top european beauties.
Every week you might find free activities and a great variety of arts to enjoy. Outstanding  music concerts and a great theater tradition makes it a perfect place to learn and have fun at the same time.
If you love sports, you will find Barcelona really interesting. Since the olympic Games in 1992 they have been taking sports really seriously. Some of the best sports atractions include a great tennis tournement, one of the best basketball teams in Europe, Rugby games every weekend
testimonials

"Matt experiences both on and off the soccer field have been more than a dream come true for him"

"Kaptiva has aided me in setting up my future by offering a wide variety of options for development and success throughout all different age categories."

"In the past year KSA has been a stepping stone towards success. They allow you to express yourself on the pitch as well as off the pitch. KSA gave me the opportunity to find out what level I'm at, measuring myself with professional teams around the world, getting to experience many different cultures from around the world.
still have doubts?
Visit our FAQ section to find quick answers to our most common questions. If you need to talk to a Kaptiva Sports Academy representative, please feel free to call us or shoot us an email via the contact form below.