We have been providing young talented players with the best intense soccer training in Barcelona to help them get to the next level. Every young player needs to develop with the best training methodology in order to reach their full potential. Becoming a pro soccer player is about hard work and learning at the best soccer academy in Europe.
Soccer training in Barcelona
The best way to improve your game is to spend every week developing your skills with the most advanced soccer training lessons. Becoming a great player is your goal and we will help you make it with the best methodology in Barcelona. Don't forget that the best way to improve your soccer skills is to attend a great international soccer academy.
Without a doubt, a great way to improve your game is to spend a full year at an international soccer academy developing all your skills. You will be able to train and develop all your soccer skills with the best coaching and a great environment to grow. You can also study while experiencing an amazing training year. Spending time with your teammates at our amazing residence is something you will always remember.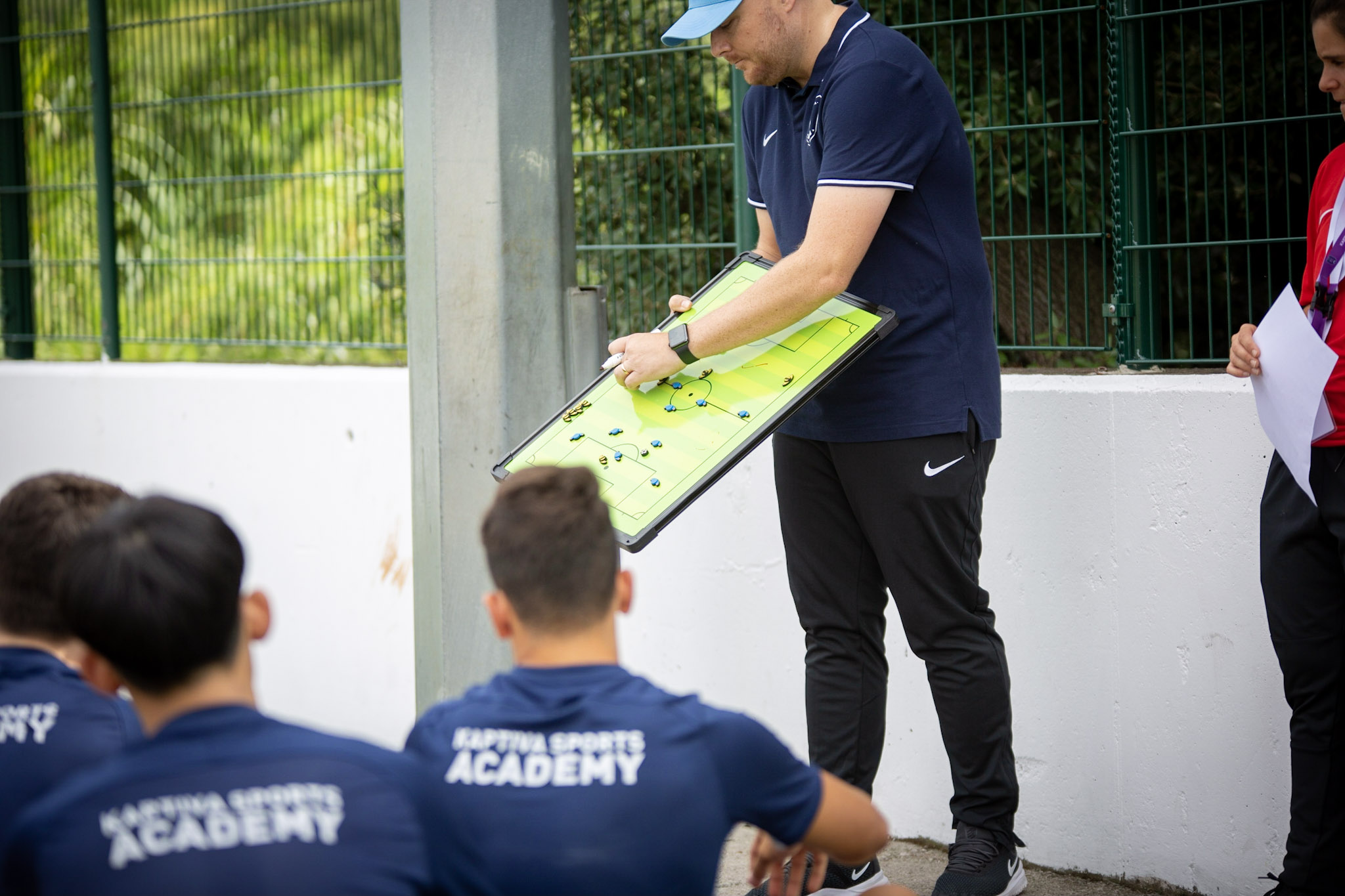 Soccer drills
Training with the best soccer drills makes you a better player by putting yourself into real game situations. From defensive skills to offensive development, intense training is the best way to improve your understanding of the game. We have developed different types of soccer drills to help our player's technical and also tactical development. You will improve your skills and become the player you want to be.
You can read our latest post about the best soccer drills to improve your game. We always aim for your success to help all of our players become the best versión of themselves. Training with Kaptiva Sports Academy can give you the tools to succeed in any given situation. It's an experience you will always remember and will help you develop as a player but also as a person.
Competition
Learning on the field is vital to create the best soccer players in Barcelona. The perfect soccer training methodology needs to include real competition in order to help every player grow and improve their skills. It's the best way to learn about the game while experiencing real game situations. That's why we always compete in the best soccer tournaments.
Another great way to develop is to compete every weekend with other professional teams because they will help you grow and to learn how to exceed your soccer skills and take your game to the next level. Get ready to evolve your skills and learn to play like a pro player with our amazing intense training methodology.
Intense soccer training in Barcelona
The best intense training in Barcelona is the one provided by an international soccer academy with enough experience to understand how soccer players need to develop. We always create specific challenges for our players and give them the opportunity to become the best player on the field. We want to put our soccer players on the road to become professional players.
Talent is always important but hard work is also key to become an outstanding soccer player with enough confidence to succeed. We use intense training during the week and competition during the weekend to develop all-around players with the confidence to succeed in any given situation.
We understand how important it is to develop all your soccer skills to become the best player on the field. Don't forget to learn about our soccer programs and please feel free to contact us if you want more info about our academy.