Developing young soccer players in 2021 is going to be as fun as every year. The staff at Kaptiva Sports Academy always focus on improving your talent but also help you in the educational and social areas. Staff and players keep working together individually and collectively aiming towards your full potential. Make sure to learn about our amazing programs for young players like you.
Soccer training methodology
You must train hard every day in order to improve your soccer skills. The best European youth soccer development academy provides different types of programs based on a well-proven methodology that helps young talented players grow. Every aspiring soccer player needs to develop his skills on the field. By competing with other teams you'll get the chance to test yourself weekly.
Our amazing coaching staff and winning methodology can provide the tools that will allow you to become the best player you can be. Our 10-month program for young talented players from all over the world is key to help you grow but the residential soccer camp will give you a taste of our winning methodology. At Kaptiva Sports Academy you will be able to learn everything you need to succeed in your career.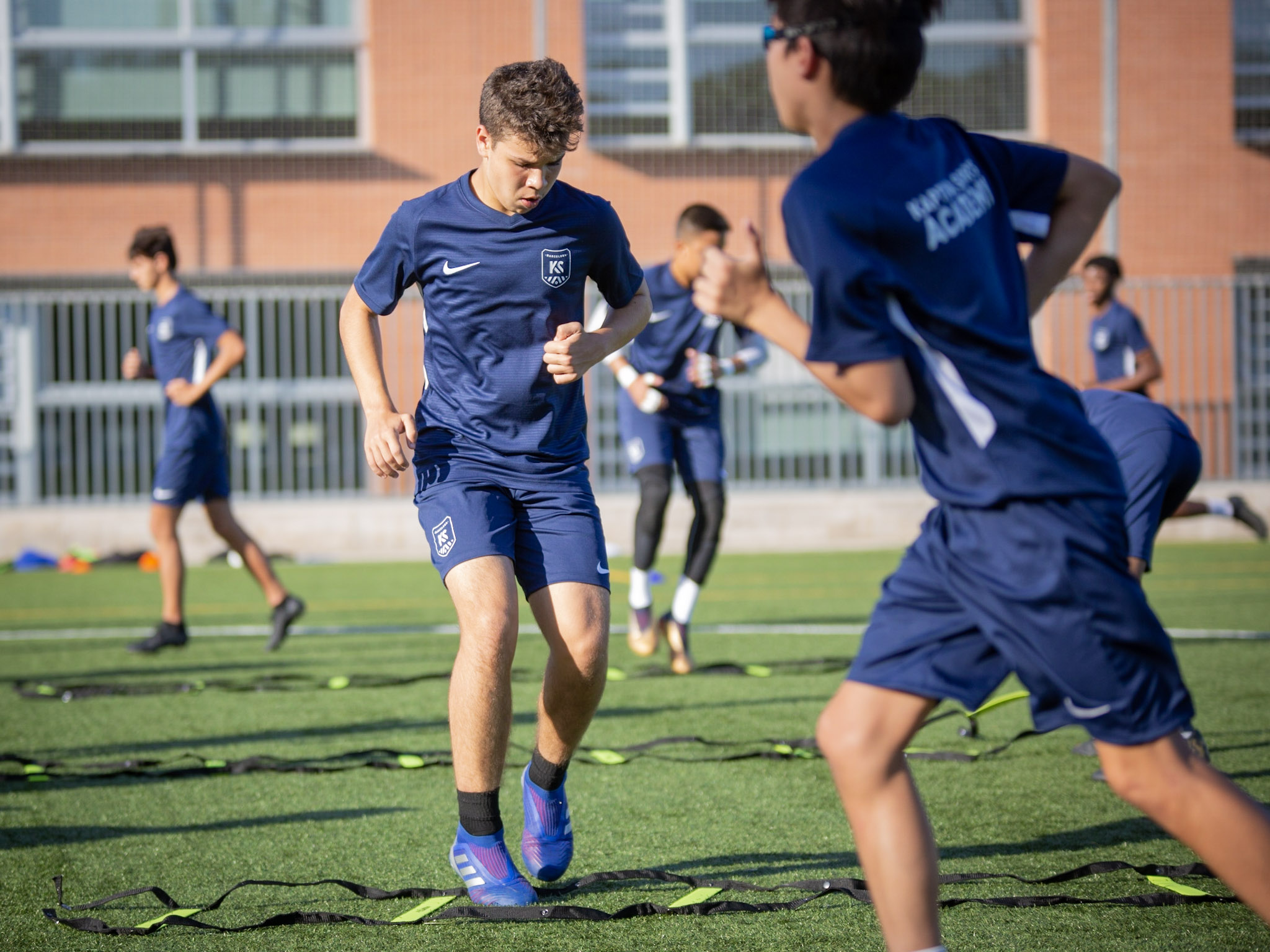 Soccer improvement training
Another important thing to grow your understanding of the game is to take some time to analyze ball movement when pro teams attack. The use of video analysis becomes key to improve your awareness of the field. Your soccer IQ will keep growing thanks to our technical video analysis. Developing the best soccer players is about playing but also understanding how to play in order to keep evolving your game.
Just remember there a lot of different soccer strategies and by learning them you will bring your game to the next level. Our training methodology will give you the tools to grow while helping you become an all-around player. By playing the best youth soccer tournaments you will be able to develop while competing against the best players your same age.
Soccer development programs
Without a doubt, creating the best experience is one of our main goals. We focus on developing talent but also on human development. The best way to play soccer in Spain is by playing at the best international soccer academy in Barcelona. Our top soccer academy in Europe provides an outstanding coaching staff and the most advanced training methodology.
Becoming an outstanding soccer player can be hard but also a lot of fun. To help you improve your skills we have created the best soccer development programs. Creating well-rounded players is a lot easier if you provide the best soccer training methodology. Keep reading to learn about our programs and the best soccer development methodology. You can learn more by reading our post how to play soccer in Spain. Another important thing about soccer development is helping young players grow outside the field.
Human development
At Kaptiva Sports Academy we like to think of our players and coaches as a great big family. Our methodology includes human development as a big part of our players evolution. Our objective is to engage each player individually to help them reach their maximum performance on all levels. They will be able to learn and understand how important Independence and responsibility are to become a great player.
Focusing on personal development, Kaptiva Sports Academy, gives all players the best tools, the proper environment, and the best educational projects to help them become a well-rounded person. Players are expected to grow personally because that can make them improve on the field. Understanding how the game and life are played becomes essential when aiming towards your full potential.
¿Are you interested in becoming a Kaptiva Sports player? Feel free to contact us and we will help you find the soccer program that better suits you.