A residential football academy in Spain is an amazing experience to live abroad for a year while improving your skills. You will be able to develop and grow training with your teammates during the week but it will also allow you to compete at the highest level during the weekend. Choosing to attend a reputed residential football academy will help you become an all-around player.
Intense football training in Barcelona
It's vital to know that the best way to improve your technical skills is with a well-structured football training methodology that focuses on the evolution of your skills as well as your tactical development. We understand that to become a pro player you must set the basics of your game the sooner the better.
Every football drill will help you grow a different aspect of the game in order to give you the tools to succeed in the future. Becoming a great player is about hard work and a lot of practice. Also, competing at the highest level can make you aware of every challenge you will be facing as a pro football player.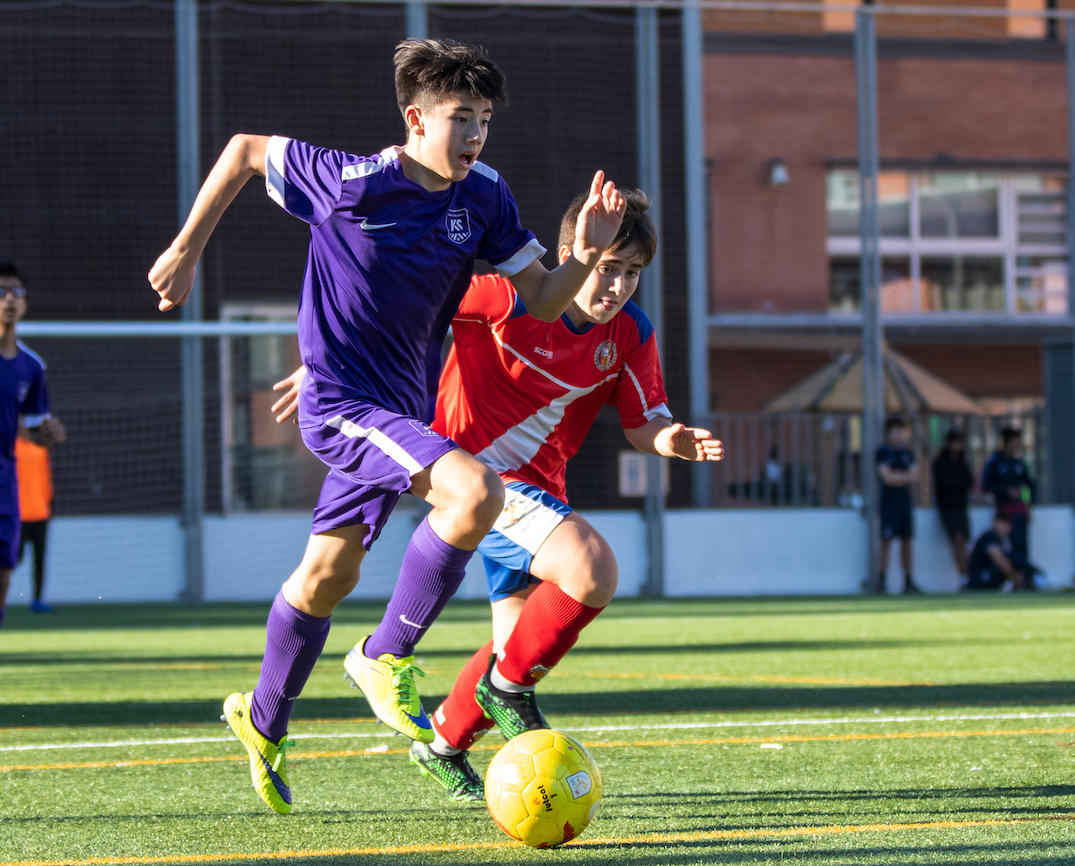 Youth football academy
A great youth football academy needs to give all the players not only a great training methodology but also an amazing residency to live abroad. A full year of playing and developing your skills is better if you are able to live close to the training field. Without a doubt that makes a big difference in player development.
Our residence in Spain is really close to the football training field. It's so close that you will be able to see it from your room while having a good time with your friends. The common spaces in the residence are the ideal place to relax and make friends. With a flat-screen TV, a Playstation and Wi-Fi connection to enjoy your free time as you prefer.
Improve your football skills
You will need football practice to develop your soccer skills the way you're supposed to. You may learn some tips by watching videos, but it's important to practice every day in order to become a successful football player. It is the best way to keep improving and testing your skills against other young players your age.
Don't forget to stay in shape and always eat healthy. Nutrition is a very important part to develop your game, that's why we provide nutrition masterclasses to our players. Every great player knows how important it is to get help from proficient football coaches in Spain. A professional coaching staff will make it easier for you to improve your skills while teaching you the importance of working together with your teammates.
Football residency in Spain
A development football academy in Barcelona is the best way to develop your football skills while enjoying a full year in Spain. Other cities in Europe don't have the best weather, the food, and the activities that Barcelona has to offer. A multicultural city in western Europe that has a beautiful beach and the greatest mountains. Our methodology provides the best football drills to help you grow.
It's the perfect place to train and develop as a pro player in the world. Our coaches will help you become the best player you can be with intense football training and the best tips to succeed in the future. Make sure to learn about our football training programs and start living your dream to become a professional football player.
We provided different types of football programs, you can learn more on our website. Feel free to contact us to learn more about our football academy in Barcelona and start living your dream of becoming the next Messi.