The 2019-2020 KSA season started in September and it' was the first opportunity to get together and start training hard to get ready for the league competition. Developing at an elite soccer academy will help you reach your full potential and will also make you grow as a person. Keep reading to learn more about the Kaptiva Sports Academy 2019 soccer stage.
Where's the football stage?
Vilanova de la Sau is a beautiful and quiet village located fifteen minutes away from Vic. A very nice and peaceful place surrounded by the perfect environment to get the best soccer training in September.  Training camps are vital to develop your soccer skills and to get in shape before the season starts.
Players enjoyed getting together as a team and doing intense training to get ready to compete at the highest level during the next 365 days. It's always important the physical training at the beginning of the season to be able to play well the whole year but it is also a great opportunity to get to know your teammates. It's the first step building towards a great new season.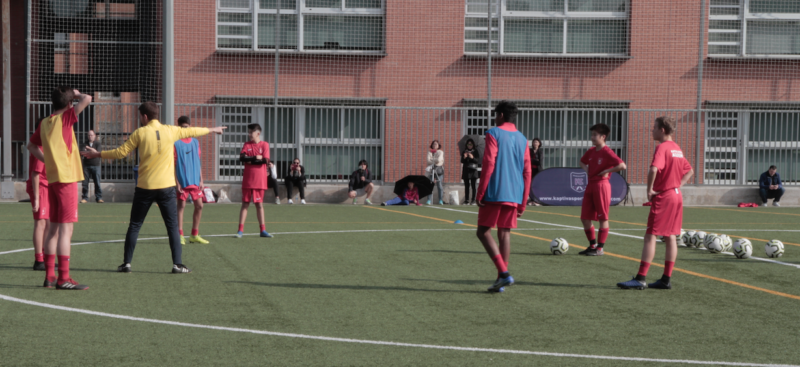 Why are we doing a soccer stage
Taking a few days before the league starts to get ready for the competition is key to success during the regular season at any sport.  Intense soccer training and teamwork development are what you will be doing during this great stage to help you get ready for an amazing new season. If you want to become a pro player you must start training as they do. Don't waste your time training alone when you can play with your new teammates.
This soccer stage is also a great time to get to know your teammates. The chemistry between players is key to success in youth leagues and can make a big difference. We are sure every Kaptiva player is going to enjoy this first stage with us. It will be the first step aiming towards your full potential.
Physical and teamwork
Physical soccer training is a must before starting every new season to build player aiming toward a hard season. All players need to focus on getting ready for a long year and to train hard together to be prepared. Teamwork will put your team ahead of your opponents and will develop great chemistry to succeed.
It's also a great moment for teambuilding. Since the first day at training camp, you will be able to train hard and develop your technical skills. Getting to know your teammates is very important before the big games start. Every year we use this first soccer stage to create a healthy team dynamic between players.
What to expect for the new season
A new season will start in September and every kaptiva Sports player is getting ready to spend a wonderful time playing soccer and developing like a pro player. Playing for an elite soccer academy is great if you do it in Barcelona or Madrid. We have both academies to help you improve your game and to give you a wonderful opportunity to become a great athlete.
Our elite soccer academies offer young players the opportunity to develop like a pro player while studying high school in Spain. We have two great academies for young players and we have been training youth soccer for almost a decade. Make sure to learn about our boarding schools and high school programs.
You can register to one of our trials now or contact us to get all the info or registrar now to one of our trials. Don't miss the chance to become an amazing soccer player!