The best academy to study abroad is the one that offers soccer training and a complete High School education to every player on the team. If you want to know where to find an elite soccer academy with the best residence in Spain, make sure to keep reading our new post. Are you ready to start living your dream?
Best country to study abroad
Spain is without a doubt one of the best countries to study abroad and the ideal environment to play soccer. It has great sunny weather, some of the best High School programs and the nicest people in Europe. You will have a great time if you decide to come to Europe to study and develop your skills. It's a great opportunity to improve your soccer skills.
Studying in Barcelona or Madrid will give you the full European soccer experience. You will be able to make a lot of new friends from all over the world. If you decide to apply to a sports soccer academy in Spain you will also enjoy intense training before school classes and complete immersion in Spain. Our pro coaching staff can help you become a great soccer player.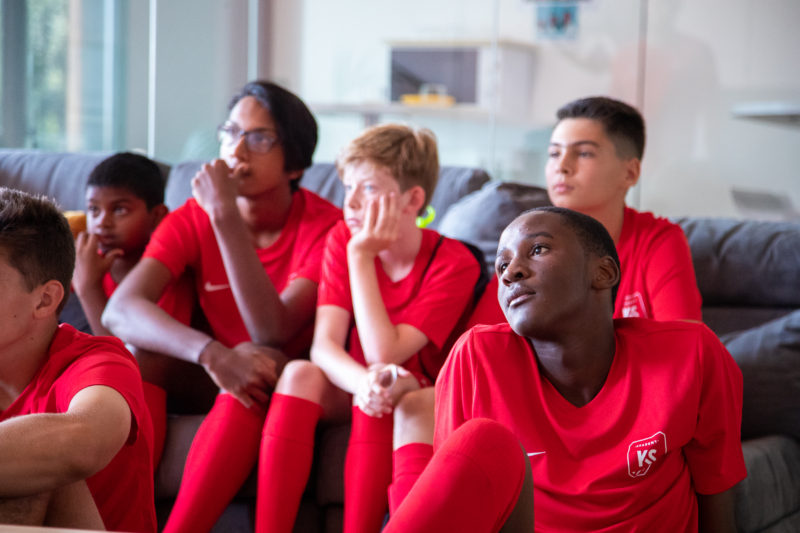 High school and soccer
One of the best things about the elite sports academy is the possibility to balance studies while playing your favorite sport. Living abroad is great but it's even better if you also get the chance to spend your time training and competing with other athletes like you. Every young player can benefit from our amazing training methodology and school programs.
Soccer is by far the most followed sport in Spain. You can improve your skills by attending one of the best elite soccer academies abroad. You will be able to learn with a great High School program while developing your game, especially if you choose our academy in Barcelona or Madrid. Both are perfectly located to make your year a wonderful experience to remember.
Barcelona soccer team
Another big win for you if you decide to play at a soccer academy Spain and to study abroad in Barcelona is that you will get the chance to watch the Barcelona soccer team playing La Liga and the Champions League. Barça plays once a  week at Camp Nou, which makes our elite soccer academy in Barcelona a great one to study abroad.
Barcelona is without a doubt the capital of soccer in Europe, but not only because of barça. There's another big La Liga team in the city, Real Club Español de Barcelona. This means you will have the chance to breathe soccer every week. It's a once in a lifetime opportunity you will remember forever.
The best academy to study abroad
If you're looking for the best academy to study abroad and to develop your game, you need to choose the best one in Barcelona in Spain. Kaptiva Sports academy is an elite soccer academy with an outstanding high school program. We have been developing young athletes for almost a decade with great results. We love taking our teams to the best tournaments like MIC. You can also choose to train and study at our new elite soccer academy in Madrid. A very good environment to evolve your game and improve your skills while having fun. Hometown of two of the top Champions League teams, Madrid and Atlético de Madrid.
Please register to one of our trials to get the chance to attend one of our academies. If you need more information about our soccer development program or about the residence, please feel free to contact us or give us a call to our office. We will be glad to help you choose the best one for you.