KSA has officially become an affiliate partner club of Sant Cugat FC. The strong Catalan club counts for 630 players and over 40 teams and has been home of the "vermell i negres" since 1916. The club has been home to many players with successful careers, and has become a feeder club for the giant, FC Barcelona.
This partnership gives our players many unique and valuable possibilities only found with Kaptiva Sports Academy. Our KSA players will have the chance of training with SCFC and play friendly matches between KSA and SCFC, benefit from direct scouting for Sant Cugat F.C. teams, and players with an approved FFC license may be able to be selected for select league games.
In previous seasons, our most seasoned players have had the opportunity to be scouted by SCFC and join their teams for the FFC league. These teams in upper divisions play weekly amongst some huge clubs like RCD Espanyol, Girona FC, and many more.
Playing and training alongside a reputable Spanish club provides our players the one of a kind opportunity to fully be immersed within Spanish football, which internationally is known as top-tiered. Kaptiva Sports Academy and Sant Cugat FC's partnership creates the best platform for players to achieve a successful football development."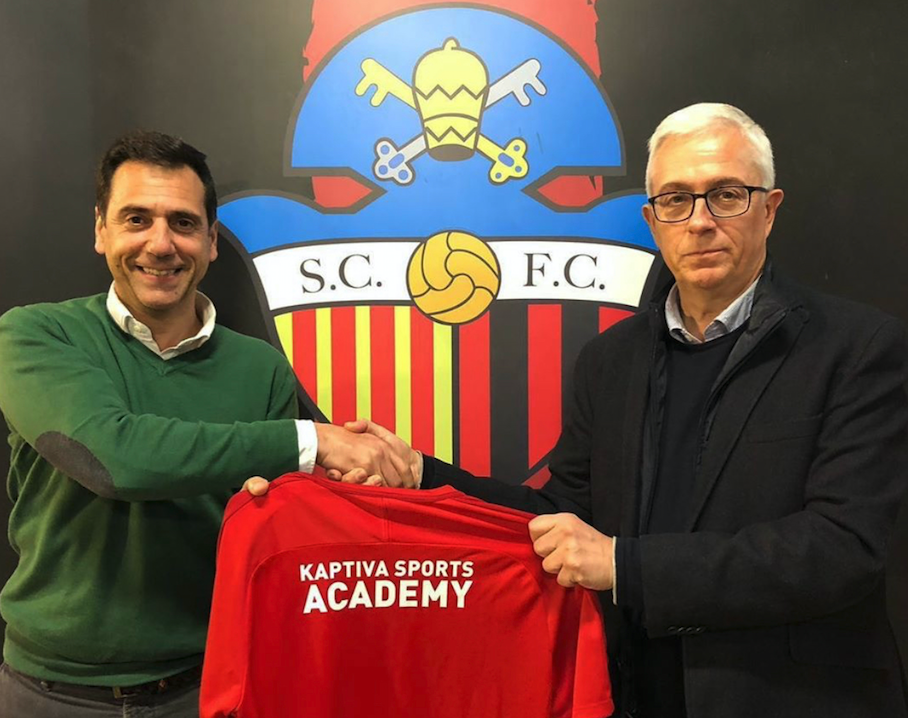 La Kaptiva Sports Academy s'ha convertit oficialment en club col·laborador del Sant Cugat FC. El club català, fundat al 1916, compta amb més de 630 jugadors i amb més de 40 equips a les seves files. L'entitat vermell-i-negre ha format a molts jugadors amb carreres futbolístiques exitoses, a més a més de continuar sent un club col·laborador i que proporciona jugadors al FC Barcelona. 
Aquest acord de col·laboració proporciona experiències i possibilitats úniques i de gran valor als nostres jugadors de la KSA, els quals tindran la possibilitat d'entrenar amb el SantCu i disputar partits amistosos entre la KSA i el club santcugatenc, i beneficiar-se així del sistema d'scouting dels diversos equips del Sant Cugat FC. A més a més, els jugadors amb fitxa federativa de la FCF podran ser seleccionats per disputar partits de lliga oficials. 
En temporades anteriors, els millors jugadors de la KSA han disfrutat l'oportunitat de ser seleccionats pel Sant Cugat FC i unir-se als seus equips amb llicència de la FCF. Molts d'aquests equips juguen en categories importants, i juguen setmanalment contra grans clubs i rivals com són el RCD Espanyol i el Girona FC, entre d'altres. Entrenar i jugar de la mà d'un club espanyol amb molt bona reputació a nivell nacional dóna als nostres jugadors una oportunitat única per fer una complerta immersió dins el futbol espanyol, considerat internacionalment "de primer nivell". 
L'acord de col·laboració entre la KSA i el Sant Cugat FC permetrà crear una base per a garantir el desenvolupament futbolístic dels nostres jugadors de manera exitosa. "