This past weekend the new 2020/2021 season of LaLiga Santander kicked off! LaLiga Santander is Spain's national football league and is renowned as of the most competitive in the world. We asked our Kaptiva Sports Academy Barcelona players and staff their predictions on this season's ultimate winner. Among the teams named the most popular came down to be Real Madrid CF, FC Barcelona, Sevilla FC, and Atlético de Madrid. All mentioned clubs have previously won the league at least once so are looking to add to their club's history.
REAL MADRID
Los Merengues have set a league record with a total of 34 LaLiga titles! As a top contender every year, our players and staff seem to be inclined on them taking home the cup. Kaptiva Sports Academy also has history with the pro team as in the MIC 2019 opening match, our U19 squad faced off with the Real Madrid team. Although that match ended in a defeat for KSA, both Real Madrid and KSA Barcelona advanced out of their groups to move on to the quarterfinals and later semifinals. (view our game recap video 
here
) Our KSA players also have experienced the Real Madrid spirit by visiting the Santiago Bernabeu stadium and attending matches!
FC BARCELONA
As our local pro team in Barcelona, many players and staff are Barça aficionados. The Catalan side has lifted the league cup 26 times and looks to overcome its bigtime rival, Real Madrid. Living a 20-minute drive from the historic Camp Nou, our players have the opportunity to attend matches and see up close the deep and rich football culture in Barcelona. KSA players also attend regularly the famous La Masia's youth matches to observe the young talents at work. You can also catch Barça players around our town of Sant Cugat.
ATLÉTICO DE MADRID
The second team located in the Spanish capital, the Colchoneros have been named champions 10 times in the league's history. The team lead by Simeone last claimed the title in 2014 and is hoping its new signings will complete the missing pieces required to clutch onto their 11th cup. KSA has seen Atelti's history through their tour of the official training grounds during our national clinic training sessions held with Atletico de Madrid. Our squads have also met on the pitch, as we have faced Atleti various times throughout KSA's 9-year history. Always an exciting club, we're excited to see if the team pulls through and comes out victorious.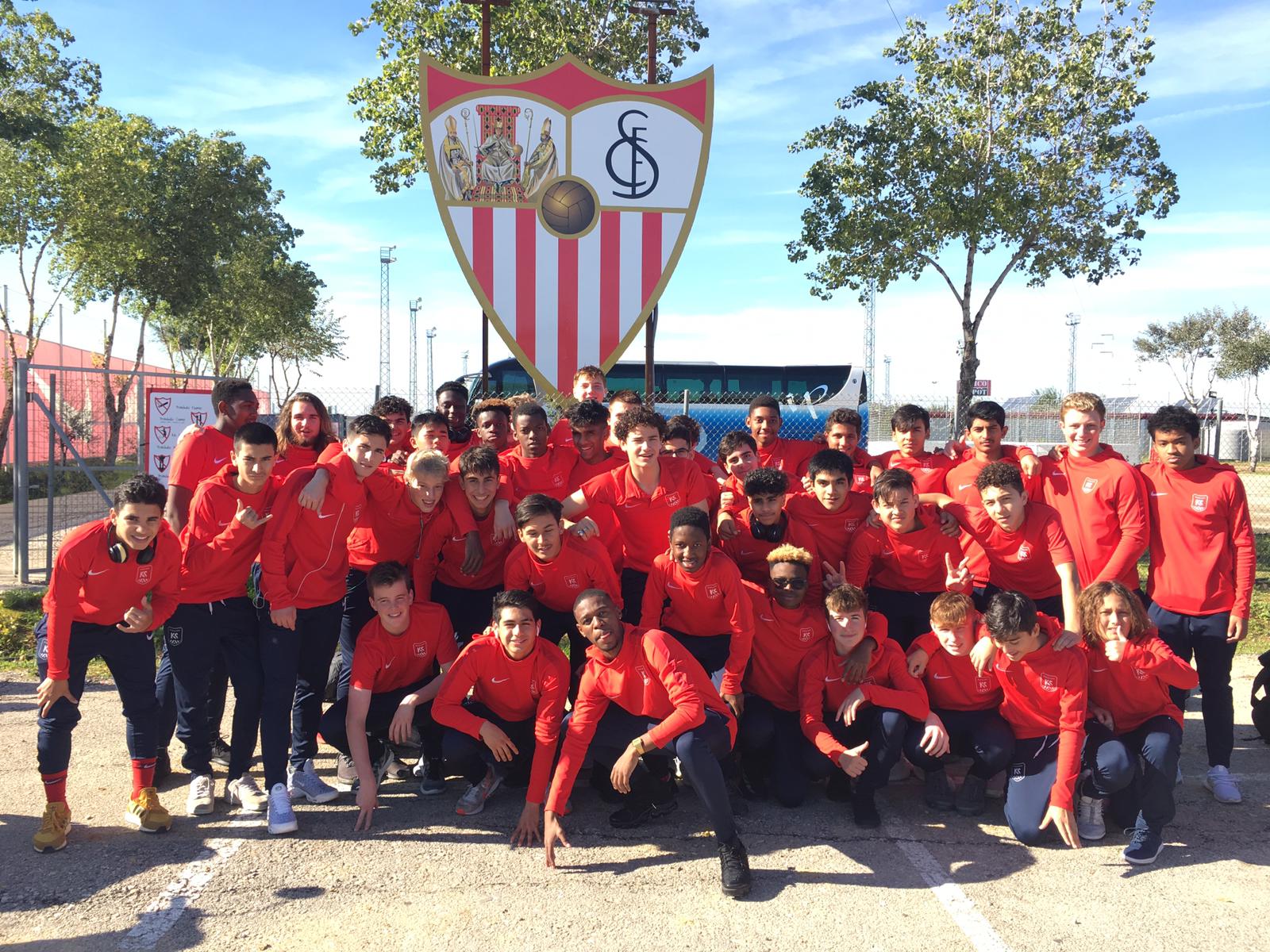 SEVILLA FC
The biggest surprise, the Andalucian side seems like a strong contender amongst our players and staff! The team has reached the winner's podium once in 1946 and have been hungry every season to get back. An underdog this season but with a fighting chance we'll be keeping an eye out to see if the squad wins its first league title in the 21st century.  This past season they did however win the UEFA Europa League and have added to their club. Sevilla FC hosted KSA in our 2018 national clinic where our Kaptiva Sports Academy players were able to learn and train under their academy coaches and learn all about the club's history.
Who do you think will be crowned LaLiga Santander champions?! Let us know on our social media! Instagram @kaptivasportsacademy or on our YouTube video here