Kaptiva Sports Academy offers the best summer camps 2020 to play soccer in Barcelona. A wonderful opportunity to develop your skills while having a unique experience with other players from all over the world.  An amazing residential camp in Spain to play from July 5th to July 17th.  Keep reading to learn more about the soccer camp in Barcelona.
Soccer summer camp
Our summer camp in Europe has a lot to offer to every young player. The best training soccer drills and great activities to enjoy not only your favorite sport but to live an unforgettable experience with your teammates. They all love playing soccer and will help you grow your game.
The residence is really close to the soccer field. It's so close that you will be able to see it from your room while having a good time with your friends. The common spaces in the residence are the ideal place to relax and make friends. With a flat-screen TV, a Playstation and Wi-Fi connection to enjoy your free time as you prefer.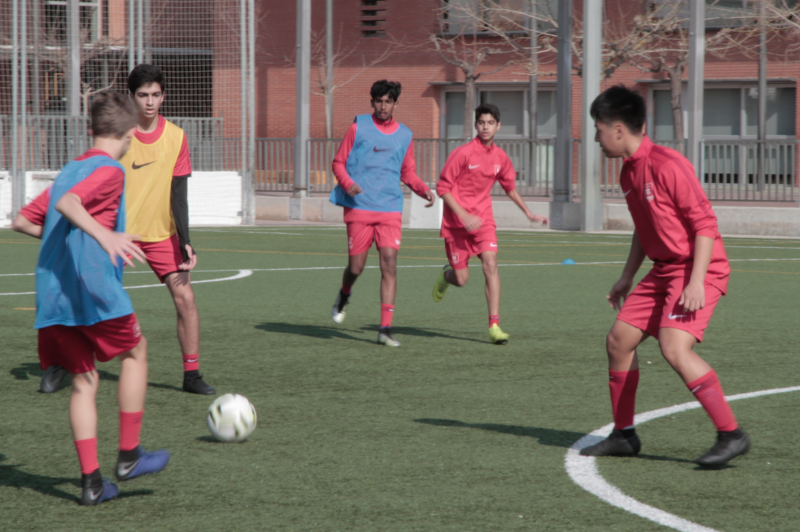 Soccer camps in Spain
Without a doubt, soccer camps in Spain are the best summer camps in Europe. La Liga is the most important league in the world, with some of the best teams in soccer history. Barcelona is without a doubt one of the top champions league teams. Learning and developing at our camp is going to be a great vacation to remember. Don't miss the chance to live an amazing experience.
Our summer camps 2020 in Spain have been developing young players from 11 to 17  for almost a decade while giving them the opportunity to enjoy the beautiful city of Barcelona. If you want to spend the best summer of your life, make sure to register now, spots are limited, don't wait until the last minute!
Barcelona summer camp 2020
Our amazing Barcelona summer camp is also a trial to be accepted for the 10-month program. A well-structured development program for boys 14 to 17 years old. Our training methodology has been developing success stories for the last decade. Don't miss the chance to train at our soccer camp in Barcelona. You can check all the info about our Barcelona soccer academy here.
This beautiful western European city is well known for being a favorite summer destination. The amazing beach on the mediterranean sea and the outstanding mount Tibidabo makes it the best place to spend two holiday weeks. You will also meet other young players from all over the world.
Summer camps 2020 for teens
Kaptiva Sports soccer camp in Barcelona is one of the best summer camps for kids you can find in the world. You won't find a better residential camp in the world. We use the academy methodology to develop their soccer skills and we give everyone a wonderful experience to remember. Fun activities make the experience even better.
If you are looking for a great residential soccer camp in Europe you should try our academy during the summer. You can check out our July soccer program here. Don't forget to register to secure one of the limited spots. You will develop your skills and make friends from all over the world.
Soccer camps in USA
If you love playing soccer and are looking for soccer camps near you we recommend you visit rmfsoccercampsusa.com. You will find the best real Madrid soccer camps 2020 in the USA. Make sure to check them out and feel like a pro player for a whole week during the summer.
Tell your friends about our summer camp in Barcelona. Diverse and multicultural experience in one of the most beautiful cities in Europe.